The couple braved the cold and answered a number of questions from the waiting press, before waving at the cameras and walking back through the garden arm in arm.
The sunken garden is poignantly the site of the memorial garden created in memory of Harry's late mother Diana, Princess of Wales to mark the 20th anniversary of her death this year.
It was one of the princess's favorite parts of the palace grounds.
H
arry and Meghan Markle were separated from the media by several meters of water, standing on the other side of the large ornamental pond.
Ms. Markle's white coat was by Canadian brand Line the Label, and her dress by P.A.R.O.S.H.
It appeared as if the Meghan Effect was already under way with Line the Label's website crashing because of the numbers of people trying to access its site.
Ms. Markle's shoes appeared to be strappy Aquazzura Matilde Crisscross Nude Suede Pumps.
Earlier, the Queen and Duke of Edinburgh said they were "delighted" for their grandson and his bride-to-be, and "wish them every happiness".
The Duke and Duchess of Cambridge said: "We are very excited for Harry and Meghan. It has been wonderful getting to know Meghan and to see how happy she and Harry are together."
Ms. Markle's parents wished their daughter and Harry "a lifetime of happiness", adding: "We are incredibly happy for Meghan and Harry.
"Our daughter has always been a kind and loving person. To see her union with Harry, who shares the same qualities, is a source of great joy for us as parents."
Visiting Poundbury in Dorset on Monday, the Prince of Wales said he was "thrilled" and  "very happy indeed" for Prince Harry and Meghan Markle.
T
heir 
16-month whirlwind romance
 blossomed when they met through mutual friends in London, and the pair have been almost inseparable in recent months.
The much-anticipated news was confirmed by the Prince of Wales in a brief statement issued by Clarence House.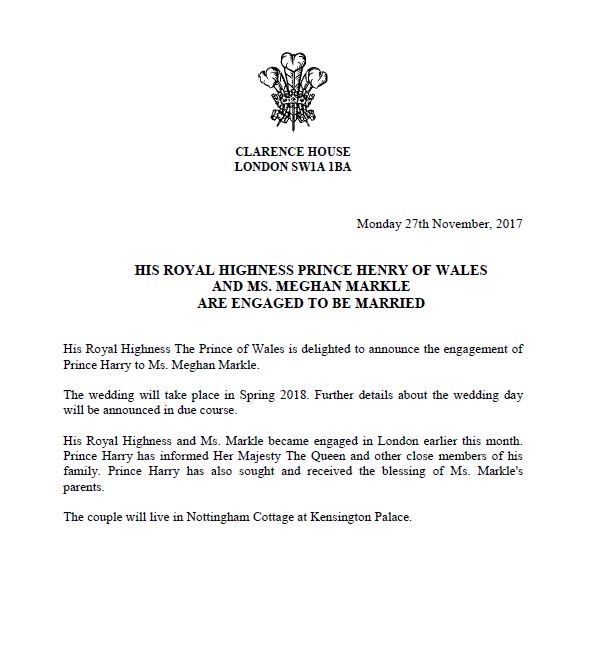 Looks like they will be selling a lot more 'People' magazines after this! Who doesn't enjoy a royal wedding?! Looks like it's going to be a busy year in 2018 for the newly engaged couple! Our Congratulations to Prince Harry and Meghan Markle!